Enhancing VR Conferences, Augmented Theatre, and Training Assistants.
The development of VOXReality is centred around prioritising the current needs of the users. This interactive systems development approach places significant emphasis on comprehending and assessing user requirements and preferences. With this approach at the core, VOXReality endeavours to unlock the potential XR applications that will revolutionise immersive experiences and drive progress in various industries. The efficacy of these technologies will be demonstrated through three distinct use cases: VR Conferences, Augmented Theatres, and Training Assistants.
This blog post provides the first year timeline of requirement gathering phases, and then an overview of each of the three focus-group workshops (VR Conferences, Augmented Theatres, and Training Assistants), followed by a brief conclusion regarding our data collection and analysis of the user-centric methods employed in our focus group study.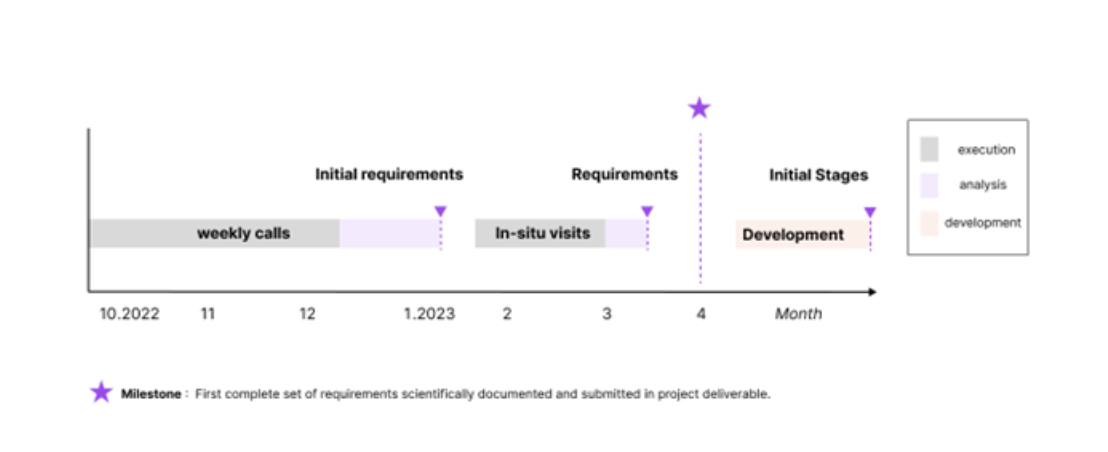 First Focus Group Workshop: VR conference
The CWI Team conducted a focus-group workshop on January 27th, 2023, at Spaces Herengracht in Amsterdam, (Netherlands) for getting the user requirements for the VOXReality project. The goal was to gather deeper insights and understand the needs of users and organisers at VR conferences.
The workshop had 6 participants, including VRDays conference organisers and experienced end-users. With the help of a moderator and an assistant, we brainstormed ideas for the role and design of virtual agents and language translation at VR conferences. We collected and documented all the activity sheets and transcribed the voice recordings of the participants.
The outcomes were then analyzed by our user-centered research team and turned into a final list of high-quality user requirements, which are scientifically documented in the D2.1 Project Deliverable.
Our workshop was a success in gathering valuable insights and meeting the needs of our stakeholders. We extend our sincere appreciation to the hosts and participants for their invaluable contributions to furthering scientific research.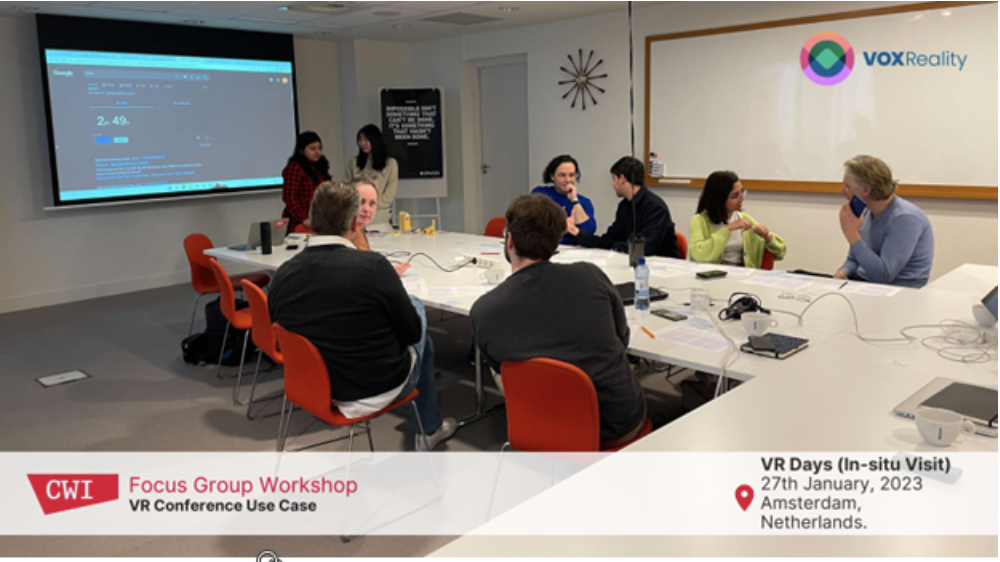 Second Focus Group Workshop: Augmented Theatre
On January 30th, 2023 CWI Team organised their second focus group workshop in Athens to gather user-requirements for the Augmented Theatre Use Case in partnership with Athens Epidaurus Festival.
The session provided detailed user-information aimed to understand the preferences and requirements of both users and organisers regarding subtitles and visual effects in theatre plays, thereby enhancing the overall theatre experience.
Through participant insights in user-centric activities, specific needs and preferences were identified to inform improvements in these areas. Furthermore, the workshop facilitated a brainstorming session to explore ideas for the user interface and interaction methods between the audience and augmented reality (AR) application.
This collaborative exercise fostered the exploration of innovative approaches, enabling seamless and intuitive interactions with AR technology to enhance audience engagement and immersion during theatre performances.
After the workshop, our user-centred research team diligently analysed the outcomes and transformed them into a finalised and scientifically documented list of high-quality user requirements, which can be found in the deliverable report of the project. The workshop's collaborative atmosphere and active participation contributed to significant advancements in our understanding and meaningful progress in the Augmented Theater Use Case.
Thanks to hosts and participants for their invaluable contributions in advancing scientific research.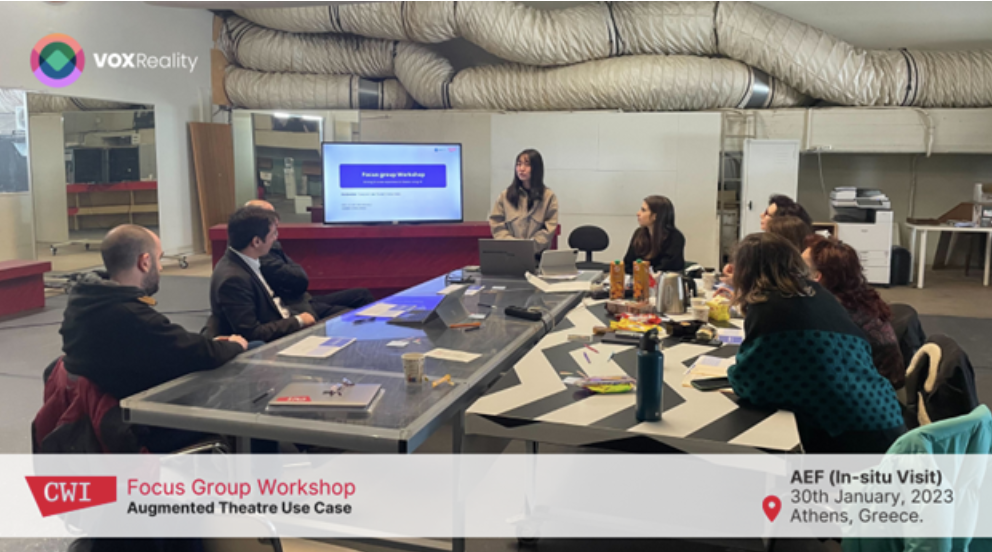 Third Focus Group Workshop: Training Assistant
On February 28th, 2023 a focus group workshop was conducted with HOLO-LIGHT to acquire user-centric prerequisites for AR-Training Assistant use-case.
We sought to gain a deep understanding of the requirements involved in delivering machine assembly training through virtual agents utilising AR glasses. The activities were user-centric to identify the specific needs and considerations for effective training using this technology.
This brainstorming session with the chief project manager and a scientific researcher from HOLO-LIGHT generated innovative ideas regarding the role and design of AR Training Agents in machine assembly setup. Since the discussions included inputs from sophisticated/expert users, therefore outputs resulted in finest user-requirements.
This workshop marked the conclusion of our focus-group workshops trilogy, and we are pleased to share that the outcomes have been successfully processed and documented in the project deliverable.
By the time this post is public, this documentation is already in the pipeline for further developmental stages. We thank the hosts and participants for their valuable contribution towards scientific research.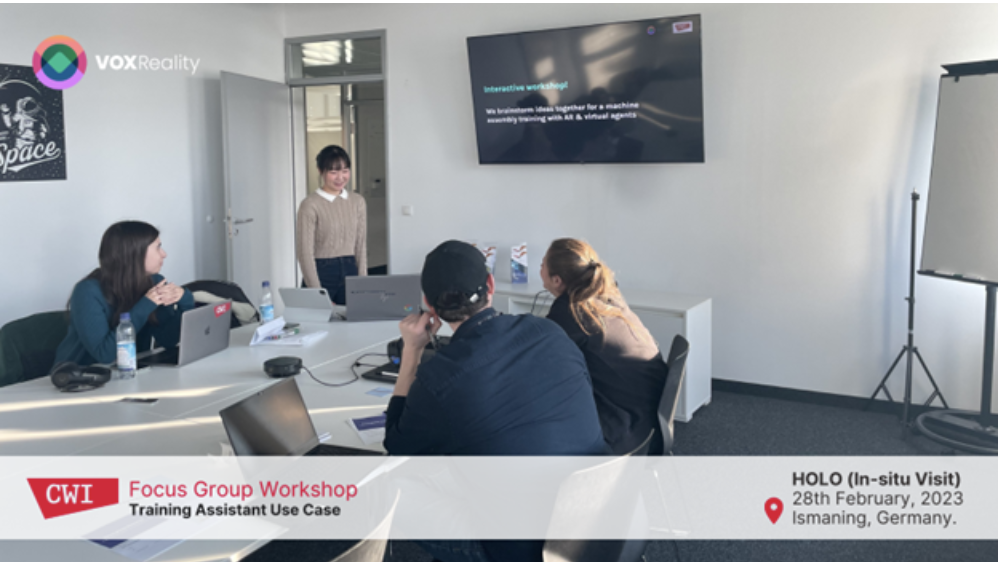 Collected Data and Analysis
During the sessions, a wide range of data was collected, including text, images/drawings, and audio. Textual data consisted of worksheets with questions and answers about users' introductions, expertise in VR/AR, and related domains, as well as their past experiences and preferences.
Images and drawings included timeline visuals depicting their entire experience as participants and visual markers representing user choices. Audio recordings of interactive discussions were also transcribed for easier analysis. We used Thematic Analysis [1] to analyze the collected qualitative data from the focus groups, about which we will explore further in detail in our future blog posts.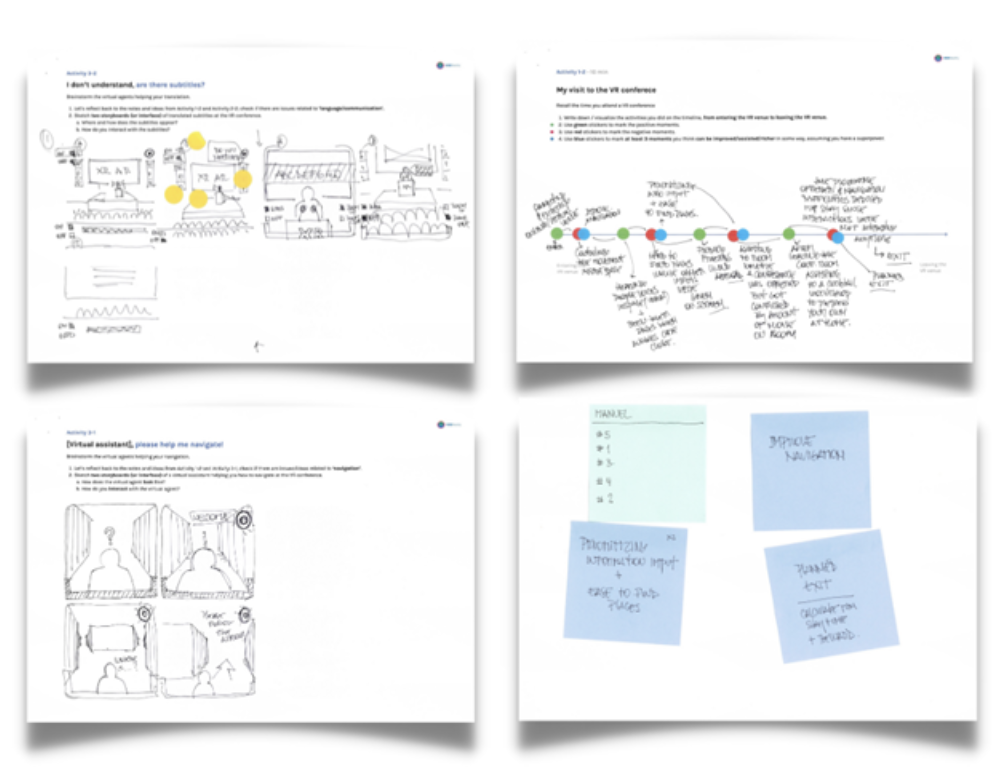 Through thorough analysis and synthesis of the collected data, we were able to uncover significant themes, patterns, and insights into the attitudes and behaviours of the participants in augmented reality (AR) and virtual reality (VR) applications across all the use-cases of the project. 
This analysis allowed us to develop a comprehensive understanding of how users engage with and perceive the AR/VR experiences, providing valuable insights that can inform the design and improvement of our VOXReality applications in these use cases. 
References
[1] Sueyoon Lee, Abdallah El Ali, Maarten Wijntjes, and Pablo Cesar. 2022. Understanding and Designing Avatar Biosignal Visualizations for Social Virtual Reality Entertainment. In Proceedings of the 2022 CHI Conference on Human Factors in Computing Systems (CHI '22). Association for Computing Machinery, New York, NY, USA, Article 425, 1–15. https://doi.org/10.1145/3491102.3517451[2] Sueyoon Lee, Alina Striner, and Pablo Cesar. 2022. Designing a VR Lobby for Remote Opera Social Experiences. In ACM International Conference on Interactive Media Experiences (IMX '22). Association for Computing Machinery, New York, NY, USA, 293–298. https://doi.org/10.1145/3505284.3532980[3] Greg Guest, Kathleen M. MacQueen, and Emily E. Namey. 2012. Applied Thematic Analysis, Sage Publications, ISBN: 9781412971676.